3 November 2018 was the date for another of my big tastings to take place. The theme this time was "Whisky from the past". I love the old bottlings of whisky and I thought it was time that more people could experience the magic in the whisky from the "good old days". I early decided that nothing distilled later than the 1960's were to be allowed in the line-up and I was hoping to get back as far as the 1930's. I did succeed in sourcing 20 different bottles that all were distilled between 1930 and 1969, well actually some of the whisky may have been distilled in the 1920's. I ended up with bottles that were bottled from 1930's up until 2003, but all whisky was distilled 1968 or earlier. I did a calculation and depending on when the different bottles were actually bottled we ended up with whisky with and average distillation date of 1954. Some of the whisky was young and some was old, so we had a good mix of both old and newer bottles and old and young whisky. Young whisky that had spent a lot of time in a bottle though.
it was a completely different time for whisky when these whiskies were distilled. Some distilleries still had their own floor maltings and some even had coalfired stills back then. The production of whisky was mainly for the blended industry and the volumes weren't even close to the volumes produced today. The barley variety was different than today, the yeast too and everything was made in a slower pace. it was also all done by had, no computers were controlling the process which means that if the maltmen had a bad day the maltings would end up differently. The longer fermentation times and the slower distillation gave another spirit than today with lots more fruitiness in it. The heart was taken by hand so once again if the stillman had a bad day it could end up in bad spirits, but when the guys in the production had their extra good days they were creating magic at the distilleries. With some luck some of that magic liquid found its way to a superb cask and ended up as a single malt in a bottle. Fortunately for us whiskynerds today Gordon & MacPhail has been going to the distilleries for decades with great casks and gotten them filled with single malt spirits. Most of the bottles at the tasting were old G&M bottlings.
For some strange reason this was the first big tasting I have organised that wasn't fully booked. We were 28 people at the tasting and I can just say that the people that stayed home missed a fantastic day with some very good whiskies and good company. We did tha tasting in two flight of 10 whiskies in each. Most of these old bottlings are 40% so the pairing wasn't so difficult to do. I saved some of the older stuff and the heavy sherried ones for the second flight. I had a few minibattles in this flight; two blends versus each other, two 12 year olds and lastly four different 25 year olds.
Flight 1 had these whiskies (my score in brackets)
John Haig & Co Ltd, Gold Label, late 30's-40's bottling, No ABV stated - 87 points
Teacher's Highland Cream, 1930's bottling, 70 proof - 86 points
Aberlour 1965, 8 YO, Square bottle, OB, 50% - 89 points
Mortlach 12 YO, 70's bottling, Sherrywood, SC803, Gordon & MacPhail, 70 proof - 90 points
Linkwood 12 YO, late 60's - 70's bottling, SC295, black label, John McEwan (OB), Samaroli Import, 43% - 82 points
Glenburgie 1948 & 1961, bottled 1981 for the Royal Wedding, Gordon & MacPhail, 40% - 93 points
Strathisla 25 YO, mid 80's bottling, SD133, Gordon & MacPhail, 40% - 90 points
Glenlivet 25 YO, 70's bottling, SC99, Gordon & MacPhail, 40% - 89 points
Glen Avon 25 YO, 80's bottling, square bottle, Gordon & MacPhail, 40% - 90 points
Glenfarclas 25 YO, 70's bottling, square bottle, OB, 75 proof - 92 points
We voted as usual and there was a clear winner in the Glenburgie 1948 & 1961, a vatting of those two vintages bottled for The Royal Wedding between Princess Diana and Prince Charles (Charles os born 1948 and Diana was born 1961). The 12 year old Mortlach came in second place and the Strathisla 25 came in third place. 
The quality was very high in this first flight and the only one that was left behind was the Linkwood 12. It had so much OBE, Old Bottle Effect, and not everyone likes that taste. I was surprised that it had so much as the filling level was so high. Maybe it has been stored in a warm place so the oxidation has been quicker? I loved the Glenfarclas 25 but it didn't make it into the top three. The two old bottles from 1930's-1940's were surprisingly good. I have tried some old Haig earlier and some of them has been good and others hasn't. The Teacher's didn't had so much OBE in it as you could suspect for such an old bottle. Both of them had some very nice fruity notes and both definitely had that sweet liquorice note that I often find in old bottles.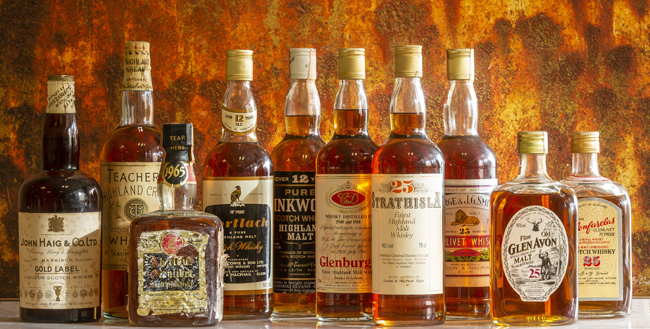 After an hour foodbreak it was time for flight number 2. I had setup a few minibattles within this flight too. Two old Glenlivet, three Glen Grant and at the end two heavily sherried ones. The flight started out very good with a 30 year old Ballantine's bottled in the 60's so pre-war whisky inside. I was worried about the Strathisla 15 as the fill level was low but it was very good. The only whisky that wasn't so good in the flight was the 30 year old Glen Grant. Something must have happend with that one. The nose was damp and earthy and it had a lot of OBE in it. Quite some smokiness and saltiness too. Not undrinkable but at 80 points it scored the lowest for the whole day.
These were the whiskies in flight 2 (my score in bracket)
Ballantine's 30 YO, 60's bottling, SB161, 43% - 88 points
Strathisla 15 YO, mid 70's bottling, flower bottle, SC96, Gordon & MacPhail, 70 proof - 90 points
Glenlivet 1961, early 80's bottling, SC999, Gordon & MacPhail, 40% - 90 points
Glenlivet 1950, bottled 1995, Gordon & MacPhail, 40% - 91 points
Glen Grant 30 YO, late 60's -70's bottling, SC295, white text bottle, Gordon & MacPhail, 70 proof - 80 points
Glen Grant 42 YO, (1936?), 70's bottling, Gordon & MacPhail, 70 proof, 91 points
Glen Grant 1948, 50 YO, decanter, Gordon & MacPhail, 40% - 90 points
Benriach 1968, 34 YO, Nov 1968 - May 2003, Sherrywood, Hart Bros, 49,8% - 91 points
Mortlach 1954, bottled 1998, Gordon & MacPhail, 40% - 92 points
John Scott's Superior Blended Scotch, 35 YO, 675 bottles, bottled 2003, John Scott, 43% - 93 points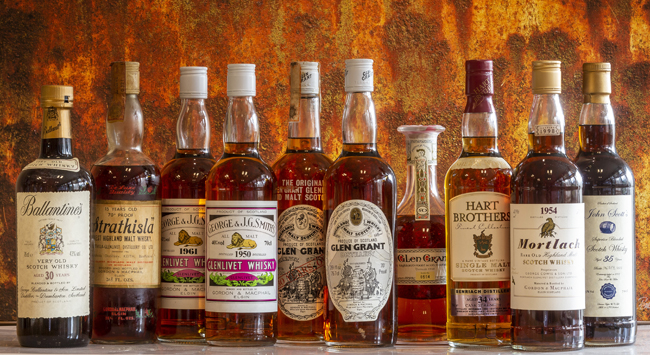 Again we had a clear winner in this flight and it was the John Scott Blend! Yes, it's technically a blend but what a blend, two quarter casks Highland Park 1965 och three from 1968 blended with a 37 year old Invergordon. Not sure how much grain there is but the heavy sherry together with the sweet grain is just amazing. The other sherrymonster, Mortlach 1954, came second and Glen Grant 42 YO took third place. The Glen Grant is supposed to be a 1936 according to some people. I don't know but it's wonderful with a good mix of citrus, candy and smokiness. The Benriach 1968 is a fruitbomb with pineapple, grape and citrus. The more delicate and fruity ones couldn't stand up to those two sherrymonsters at the end but this was a great flight. I scored 8 out of 10 whiskies at 90 points or higher!
We had a great day and the day after my friend Pelle Wahlgren took this picture of a very happy Magnus.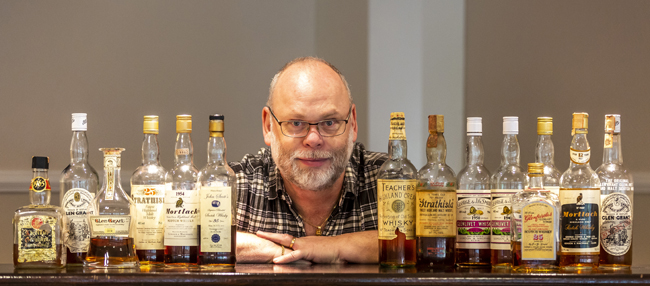 Magnus Fagerström, May 2019