I have been to several great Highland Park tastings that my friend Christer Lagestig held at his Inn on Öland. When Christer sold the place he still wanted to invite people to share his passion for Highland Park, so he asked me if we could do it together. In 2019 we held the first tasting in Påarp. I never wrote any article about that tasting as it was Christers tasting and not mine. It was a great success so we decided we would do another tasting in 2020. In September 2019 Christer called me up and by then he had all the bottles he wanted for the tasting. We set the date and the details around the tasting. A week later I got a horrible call from Christers son telling me that Christer was no longer with us. Christers family and me decided to go ahead and do the tasting in Christers spirit. He was always very keen to try the bottles he bought and most of all he loved to share his whisky with other whiskylovers. The date and everything was already set, so I went ahead and invited people to the tasting. Date was set to March 9, 2020. When we got closer to that date Corona has started to spread but hadn't hit Sweden so we went ahead with the tasting. We were 25 people at the tasting, so there was almost half left in the bottles as we were serving 1,5 cl of each whisky. I had already said that I could do a second tasting with these bottles in mid-Sweden, but then Corona hit us for real and it had to be post-poned. I actually did manage to get that second tasting in Enköping in early November, but then for just 12 people at the venue and another 8 people joining us on Zoom, so it was Corona safe and according to the current regulations. 
These two tastings were fantastic. I had a very hard time to present the tasting as I was talking about my friend Christer, but with all the love from the audience I managed to get through it. Everyone who had met Christer knew him as very friendly, funny and extremely generous and you could feel that generousity in the room when we opened all these amazing bottles Christer had bought for this tasting. 
The tasting was divided into two sets of 7 whiskies with a break for food between them. At the end of the first tasting I did what Christer always did on his tasting, I opened a Highland Park I hadn't tried before and passed the bottle around.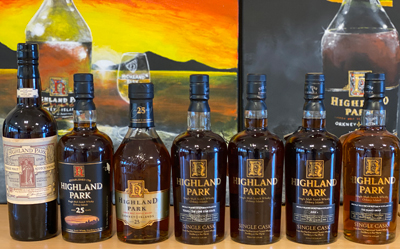 Flight 1.

Highland Park 15 YO Earl Magnus, OB, 52,6%
Highland Park 25 YO bottled circa 2000, OB, 50,7%
Highland Park 25 YO, bottled 2000, OB, 51,5%
Highland Park 14 YO, 1991-2006, Cask 2310, OB for Texas The Lone Stars State, 56,7%
Highland Park 24 YO, 1980-2004, Cask 7366, OB for Park Avenue Liquors, 58%
Highland Park 28 YO, 1977-2005, Cask 7959, Ping 2, OB for Juul´s, 52,3%
Highland Park 35 YO, 1973-2008, Cask 6194, OB for The Nuance Group, 49,6%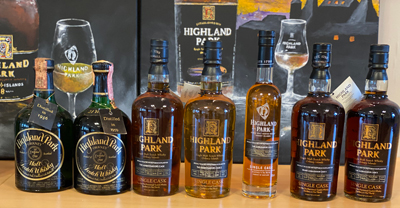 Flight 2.
Highland Park 20 YO, 1956-1976, Green Dumpy, OB, 43%
Highland Park 21 YO, 1959-1980, Green Dumpy, OB, 43%
Highland Park 21 YO, 1984-2005, Ambassadors Cask No 1, OB, 56,1%
Highland Park 10 YO, 1996-2006, Ambassadors Cask No 2, OB, 58,8%
Highland Park 33 YO, 1974-2007, Ambassadors Cask No 3, OB, 44,8%
Highland Park 29 YO, 1979-2008, Ambassadors Cask No 4, OB, 56,1%
Highland Park 34 YO, 1974-2008, Ambassadors Cask No 5, OB, 41,5%
I am writing this article in February 2021. It has taken me some time to get the courage up and write about this as it brings up memories, but memories are very often very bright ones and I want to end with a great memory of Christer. In 2019 Christer was one of my guests on a trip I organised to Scotland. I have done many trips with different groups, but this trip was probably the best one. It was a great group of people and to visit Orkney and Highland Park together with Christer was amazing. My friend Ian Moir was kind enough to take a whole day with us and show us around his Orkney. A wonderful day that ended in Ian's ShedBar, but it is the night before that sticks to my memory. We had finished our dinner and me and Christer went outside. It was one of these very rare days when there was no wind, yes you read that correctly, no wind on Orkney! it was a warm night (for being Orkney) and we could sit outside in just jeans and a t-shirt. We had a cigar and Christer took out one of his many Highland Park samples he had brought along to share with me.
Thank you so much for all the memories Christer! I miss you!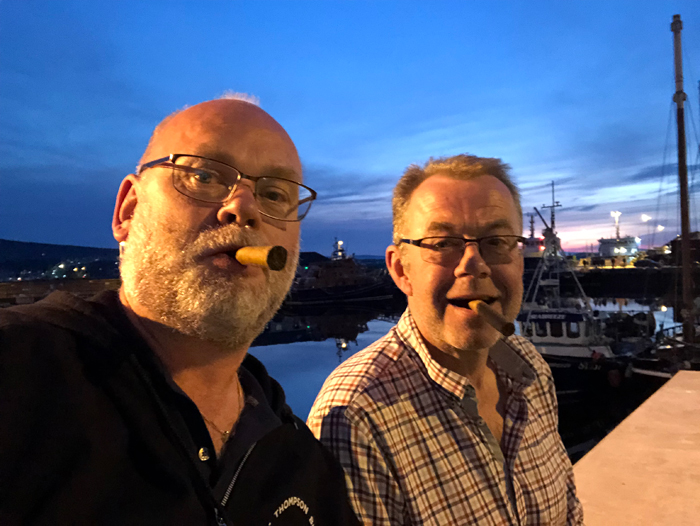 Magnus Fagerström, 25 February 2021