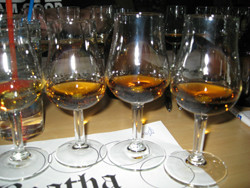 Saturday March 7, 2009 was the day for another big tasting in Påarp. This time it was from an idea I got when I was at a tasting in Växjö. They served whisky that together were over 300 years old. They had 8 different whiskies so an average age of almost 40 years. I thought that a tasting with 1000 year old whisky sounded like a fun idea. I also wanted to limit it to 25 whiskies so that the average age of the whiskies would be 40 years old. I started to look around to see what was available. I early decided that nothing below 35 years old would make it to the tasting. I found bottles both in Denmark and in Scotland and I found some really exciting bottles. Some bottles were tricky as they only had distillation year and bottling year stated, so I didn't know the exact age of the whisky. These bottles were mainly bottles from Gordon & MacPhail so I sent them an email and asked if they could help me out. They answered me very quickly and gave me all the information needed. Eventually I was only missing one bottle and it had to be 44 years old to make it exactly 1000. I found a Mortlach 1954 at Royal Mile Whiskies and the bottle on the picture had bottlingyear 1998 on the label, so it could fit in if it was 44 years old. Another mail was sent to G&M and they confirmed that the bottle in the picture was actually 44 years old. I ordered the bottle but when it arrived it was bottled 2008 and not 1998 and was 54 years old! I decided to include it anyway and there wasn't anyone at the tasting that complained about getting 1010 year old whisky instead of the promised 1000 year old. In addition the oldest whisky at the tasting got to be 54 years old instead of 49, so it was fun to be able to include a whisky older than 50 years.

Invitation to the tasting went out six months before the tasting and as the previous big tastings this one was also very quickly fully booked. We did as we had done before, tasting start at 2 pm, two hour tasting, one hour foodbreak, two hour tasting, one hour foodbreak and finally two hour tasting ending the tasting at around 10 pm.
It was a very happy gang that went home after yet another unforgettable big tasting.
These are the whiskies we tasted: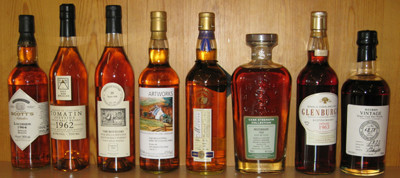 Flight 1:
Lochside 1964, 41 YO, single blend, 1964 - 2006, Scott's Selection, 47,7%
Tomatin 1962, 41 YO, 1962 - 2004, Part Nan Angelen, 42,6%
Coleburn 1964, 35 YO, Jul 1964 - Aug 1999, Cask 2210, The Bottlers, 46,9%
Tomintoul 1967, 40 YO, Cask 2, Extra matured in Rum Wood, Art of Whisky, 47,9%
Macduff 1968, 39 YO, 1968-2008, cask 8550, Duncan Taylor, 49,1%
Miltonduff 1964, 42 YO, 1964 - 2006, cask 1152, Signatory Cask Strength Decanter, 45,1%
Glenburgie 1963, 44 YO, 04.02.1963-01.05.2007, Gordon & MacPhail, 43%
Karuizawa 1971, 36 YO, 1971 - 28.1.2008, cask 6878, OB, 64,1%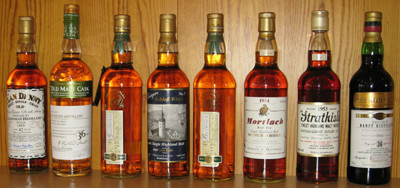 Flight 2:
Caledonian 1965, 42 YO, 1965 - 2007, single grain, Clan Denny, 47,8%
Clynelish 1971, 36 YO, Mar 1971 - Sep 2007, refill hogshead DL 3913, Old Malt Cask, 44,6%
Glenrothes 1968, 39 YO, Nov 1968 - Feb 2008, cask 13498, Duncan Taylor, 48,2%
Glen Keith 1969, 36 YO, 1969 - 2005, Krüger, 48,1%
Benriach 1968, 37 YO, Cask 2597, 11.1968 - 07.2006, Duncan Taylor, 48,6%
Mortlach 1954, 54 YO, 1954-2008, Gordon & MacPhail, 43%
Strathisla 1953, 47 YO, 19.12.1953-01.06.2001, Gordon & MacPhail, 40%
Banff 1966, 36 YO, Feb 1966 - Sep 2002, sherry cask, Old Malt Cask, 42,1%
Flight 3: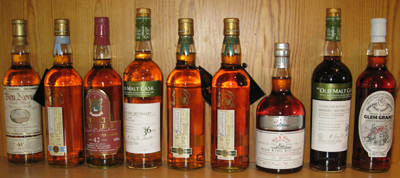 Ben Nevis 40 YO, 1962 - 2002, Dew of Ben Nevis, single blend (blended at birth), OB, 40%
Highland Park 1966, 40 YO, 12.1966-12.2006, cask 11008, Duncan Taylor, 41,5%
Tamdhu 1958, 42 YO, bottled 2000, Hart Brothers, 40,8%
Dallas Dhu 1971, 36 YO, April 1971 - Januari 2008, Cask 4106, OMC, 46,2%
Glenlivet 1968, 39 YO, Dec 1968 - Dec 2007, cask 7601, Duncan Taylor, 49,9%
Caperdonich 1968, 39 YO, Okt 1968 - Dec 2007, cask 2608, Duncan Taylor, 56,0%
Blair Athol 1966, 40 YO, 1966 - 2006, Douglas Laing Platinum, 49%
Probably Speyside Finest 1966, 40 YO, Dec 1966-Aug 2007, Sherry Butt DL3803, Old Malt Cask, 50%
Glen Grant 1956, 49 YO, 13.12.1956-03.05.2006, Gordon & MacPhail, 40%
Magnus Fagerström, July 2012