I didn't organize any big tasting in 2013, so in 2014 I thought it was time to do the biggest one of them all. It was time for a record and not just any record, but a big one! As I stopped collecting BenRiach in 2012 and got a chance to display them all when we had Stewart Buchananan from BenRiach visiting us in 2013, it was now time to do the biggest BenRiach tasting ever. Said and done, I decided to do a 2-day tasting with 50 different BenRiach a day and a total of 100 different BenRiach in 2 days. 
I had gotten some inspiration for this tasting a couple of years ago when I read about Ulf Buxrud's party with 54 different Macallan. I haven't heard of any other tasting coming in this category. Oh, the Glenfarclas tasting with all the Family Casks of course, but that was about 40 in total, but I haven't heard of anyone coming close to 100.
12 brave men including myself were prepared to experience a unique tasting. A lot of people were interested but they didn't believe they could handle so many whiskies in two days. Alistair Walker was invited but his excuse was that his health insurance didn't cover such a tasting! Stewart Buchanan was unfortunately abroad working so he couldnt come either, but the 12 that were there got a weekend they will ever forget.
50 whiskies a day means 75 cl per person per day and then it takes some planning. Plenty of food and lots of foodbreaks are essential to make it through the day. Plenty of time is needed too and to be on the safe side I provided everyone with an empty bottle that they could fill their leftovers in. So everyone went home with his own unique BenRiach single malt with 100 different BenRiach inside!
The tasting started Saturday November 1st at 10.00 in the morning and we finished around 21.30 in the evening. The same times for the Sunday tasting. When the guests came in to the tasting room they were facing this sight: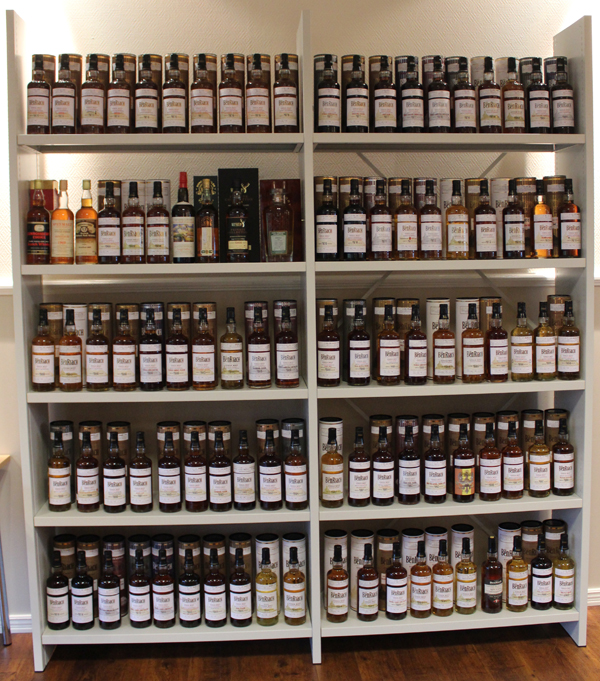 To the left are the bottles for the Saturday tasting and to the right you have the Sunday bottles. Every shelf is one flight of whiskies and we started from the top working our way down.
The bottles included in the tasting were 10 from the 60's, 30 from the 70's, 30 from the 80's, 29 from the 90's and 1 from 2000's. Out of the 100 bottles 93 of them were single cask distillery bottlings. The 7 that came from independent bottlers were all 1960's whiskies, there were quite simply not enough distillery bottlings from the 60's for the tasting. 4 out of the 7 independent bottles were also single casks and I bet that the last 3 are that too. Gordon & MacPhail didn't do big batches of Connoisseurs Choice, so its likely just 1 to 3 casks in those bottles.
My plan for the tasting was to begin each day with a good flight of old stuff and that flight number 2 should be the one with the best whiskies. Then we should go on with the 80's, then the 90's and finish the day off with the peated ones.
Each participant got their own notebook so they could have all their tastingnotes in one place. After a moment of building up expectations it was time to start. We had about 1½ hour for each flight followed by 1 hour foodbreak and the plan worked out perfectly. It was a very special tasting, as everyone know it was going to be a lot of whisky that was going to be tasted and everyone wanted to make the best of the day. Every flight started out very quiet. There was a deep concentration of nosing and tasting. It took about 30 minutes into each flight before anyone said anything and the discussions could start!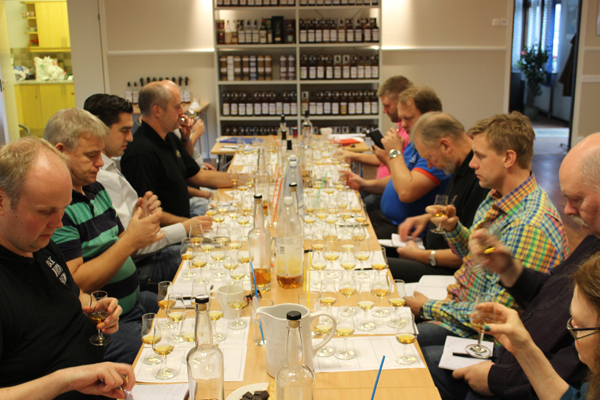 The first flight on the Saturday consisted of only 1970's BenRiach. The exotic fruit notes spread in the room and the happy faces were spread just as fast. 1976, cask 3035 and 1976, cask 3558 were my winners in this flight with their 91 points. One pityful whisky got 89 points from me and that was the worst one in the flight! Or I should say the least great one in that flight. We had set the standard for the rest of the tasting so to speak. After foodbreak with sandwiches and coffee it was time to serve 10 BenRiach from the 60's. It wasnt the best flight of the day, but definitely the most expensive one when looking at the bottle prices.6 of them got between 86 and 89 points from me, but in this flight I also found one of the best for the whole weekend. BenRiach 1968, 41 years old, cask 2709 for Bar Main Malt in Kobe was absolutely lovely with its wonderful tuttifrutti. 94 points from me, but I am also known for being cheap with the really high scores.
The catering came with lunch for us and then it was time for the 80's. High 80's on the scoreboard and some at 90 with 1980, cask 2532 as the flightwinner with its 91 points. After some more sandwiches we were going to taste the 90's. This was probably the least good flight of the weekend, the winner in the flight, 1993, cask 2574, got 88 points from me, which in the context of the whole tasting was pretty low. We also found the 2 worst whiskies of the weekend in this flight! 79 points for the 1990, cask 5618 and unbelievebly low 50 points for 1990, cask 3805. The taste was mostly rubber and sulphur. I have tried it again at a later date and then it wasn't that bad, so maybe it needed more time in the glass and less great whisky around it. For me the taste was just too much suplhur and when it was surrounded with all these fruitbombs it was only suplhur that came through.

Last foodbreak of the day called for pizza. Not everyone could eat it all as we hade been eating a lot during the day to stay on top of our game.
It was now time for the peated versions of BenRiach. We were back into the high 80's and into the 90's on the scoreboard, but we also found another one that maybe should have stayed in the cask or reracked. 1986, 19 years old, cask 9632 was far from being ready for bottling. It had been matured in a butt and with 663 bottles that adds up, but that cask must have been used a lot before. Both nose and taste reminded me of new make! Ugh! 55 points from me. Fortunately there was a 1975 peated/tawny port, cask 4450 in the flight and with its 90 points it was my winner in the last flight of the day.
The first day had come to an end and it was 12 remarkably sober men that went home to regain some strength for the next day's hard work. Not one participant were sluring or unsteday, so the foodbreaks had done their job.
Sunday morning at 10.00 everybody were back for day 2. Same plan as the day before with flighttimes and foodbreaks and again it worked smoothly.
The first flight of the day had seven 1970's whiskies and three 1980's. Awesome quality with three at 88-89 points and the rest at 90 or over. Winner was the 1977, cask 1033 just before 1978, cask 4387.
After the foodbreak it was time for the second flight of the day and it turned out to be one of the best line-ups I have ever been to. All 1970's whiskies and we started it off with two almost black sherrymatured bottles from 1970 that got 92 and 91 points from me. Then we had two fruity 1971's with 92 and 90 points. Three 1972's followed and they all got 91 points from me. Three 1975 completed the flight and with their 93, 91 and 90 points they made sure that I will remember this flight for a very, very long time. It was so good that I almost wanted to stop then and there, but it was decided to be 100 whiskies so it was just to keep going. The 80's and 90's whiskies in the next two flight didn't make anyone disappointed. Mostly high 80's and one, 1988, cask 4020 got 90 points from me. There was one very strange one though, 1991, cask 6888 dark rum finish smelled of tequila and because of that it only got 70 points from me, but others loved it. 
The day and the whole tasting were finished with a peated flight and here we also had a very fun bottle. The last bottle was a 3-year old single cask distilled in 2005. This was the first bottle ever released with whisky distilled by Billy Wlaker & Co after they bought the distillery in 2004. It was bottled for Japan and despite its youth it got 82 points in my book.
Two days of intense tasting had come to an end. Once again there were 12 very happy and quite sober gentlemen walking home with a smile on their faces, a memory for life and a unique bottle of BenRiach in their hands.
Thanks to you all for coming to this tasting and making it a fantastic memory!
Financially this tasting was probably the most stupid thing I have done. 50 litres of leftover instead of selling 100 bottles at auction is no good deal, but the memory is worth so much more!
The Swedish whisky magazine Allt om Whisky appointed the tasting Tasting of the Year 2014! 
These are the bottles we tasted including my scores:
Flight 1:
BenRiach 1975 - 35 years - Cask 7227 - Sherry Hogshead - Exclusive for Asta Morris, Belgium - 51,0% - 90p


BenRiach 1976 - 35 years - Cask 3028 - Hogshead - Exclusive for Kinko, Japan - 43,2% - 89p
BenRiach 1976 - 34 years - Cask 3029 - Hogshead - Exclusive for Shinanoya, Japan - 42,1% - 90p
BenRiach 1976 - 35 years - Cask 3035 - hogshead - Exclusive for Kinko, Japan - 43,8% - 91p
BenRiach 1976 - 33 years - Cask 3550 - Hogshead - The Whisky Fair, Germany - 46,2% - 91p
BenRiach 1976 - 33 years - Cask 3558 - Hogshead - The Whisky Fair, Germany - 47,4% - 91p
BenRiach 1977 - 33 years - Cask 9119 - Refill Bourbon Hogshead - Exclusive for Asta Morris, Belgium - 45,7% - 90p
BenRiach 1978 - 32 years - Cask 7037 - Sherry Hogshead - Exclusive for Asta Morris, Belgium - 48,0% - 90p
BenRiach 1979 - 32 years - Cask 8507 - Refill Bourbon Barrel - Exclusive for Asta Morris, Belgium - 47,3%  - 90p
BenRiach 1979 - 30 years - Cask 10814 - Barrel - Exclusive for Taiwan - 47,2% - 90p
Flight 2:
Benriach 1969 - 10 years - Connoisseurs Choice - black label red text - 70 proof - 87p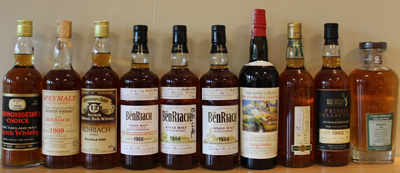 Benriach 1969 - Speymalt Special Reserve for Meregalli Giuseppe, Italy - 40% - 88p
Benriach 1969 - 12 years - Connoisseurs Choice - Brown label - 40% - 87p
BenRiach 1968 - 41 years - Cask 2709 - Hogshead - Exclusive for Bar Main Malt, Kobe, Japan, 51,0% - 94p
BenRiach 1968 - 37 years - Cask 2710 - Hogshead - Sun Favourite, Taiwan - 51,5% - 91p
BenRiach 1968 - 37 years - Cask 2712 - Hogshead - 52% - 90p
Benriach 1968 - 34 years - Cask 2590 - High Spirits - 50,4% - 89p
Benriach 1968 - 37 years - Cask 2597 - Duncan Taylor - 48,6% - 90p
Benriach 1966 - 44 years - Cask 605 - First fill American hogshead - Gordon & MacPhail - 56,1% - 89p
Benriach 1966 - 42 years - Cask 1019 - Hogshead - Signatory CS Collection - 43,9% - 86p
Flight 3:
BenRiach 1980 - 28 years - Cask 4998 - Classic Speyside - Exclusive for Taiwan - 47,5% - 90p


BenRiach 1980 - 26 years - Cask 2534 - New Oak Wood Barrel - Le Maison du Whisky, France - 46% - 87p
BenRiach 1980 - 29 years - Cask 12 - Barrel - Exclusive for Taiwan - 43,9% - 88p
BenRiach 1980 - 28 years - Cask 4999 - Classic Speyside - Exclusive for Taiwan - 53,5% - 86p
BenRiach 1980 - 30 years - Cask 2532 - New Oak Wood Barrel - 51,1% - 91p
BenRiach 1980 - 28 years - Cask 5542 - Oloroso sherry finish - Exclusive for Taiwan - 48,5% - 88p
BenRiach 1983 - 29 years - Cask 299 - refill hogshead - Exclusive for Asta Morris, Belgium - 44,1% - 87p
BenRiach 1986 - 19 years - Cask 2972 - Hogshead - Whiskyfair, Germany - 54,7% - 90p
BenRiach 1989 - 22 years - Cask 4813 - Sauternes Hogshead - 49,1% - 86p
BenRiach 1989 - 22 years - Cask 5620 - Virgin Oak Hogshead - 50,6% - 90p
Flight4:
BenRiach 1990 - 19 years - Cask 970 - Bourbon Barrel - 57,1% - 82p

BenRiach 1990 - 21 years - Cask 5618 - Virgin Oak Hogshead - Exclusive for Malt-Whisky.ch, Switzerland - 50,6% - 79p
BenRiach 1990 - 18 years - Cask 3805 - Sherry Butt - Singapore exclusive - 50,9% - 50p
BenRiach 1991 - 18 years - Cask 4491 - Moscatel finish - Exclusive for USA - 57,5% - 82p
BenRiach 1993 - 17 years - Cask 7547 - Sherry Puncheon - Exclusive for Taiwan - 56,2% - 87p
BenRiach 1993 - 17 years - Cask 7416 - Barolo Hogshead - Exclusive for Widder Hotel Zurich - 57,1% - 86p
BenRiach 1993 - 15 years - Cask 2585 - Hogshead, Sauternes finish - Exclusive for Taiwan - 53,3% - 85p
BenRiach 1993 - 15 years - Cask 2586 - Sauternes finish - Exclusive for Malt Attitude Club, Belgium - 55,9% - 87p
BenRiach 1993 - 18 years - Cask 2574 - Rioja Wine Barrel - Exclusive for Finland - 56,0% - 88p
BenRiach 1994 - 14 years - Cask 105100 - Bourbon Barrel - 59,5% - 86p
Flight 5:
BenRiach 1978 - 29 years - Cask 4416 - Tokaji Wine Barrel - Lightly Peated - 52,5% - 90p


BenRiach 1978 - 29 years - Cask 4413 - Moscatel Wine Barrel - Lightly Peated - 52,2% - 89p
BenRiach 1984 - 26 years - Cask 7193 - Peated - Virgin Oak Hogshead - 54,3% - 87p
BenRiach 1975 - 33 years - Cask 4450 - Tawny Port Pipe - Peated - 52,2% - 90p
BenRiach 1984 - 25 years - Cask 4052 - Tawny Port Hogshead - 51,7% - 88p
BenRiach 1986 - 23 years - Cask 3182 - Peated, PX hogshead - Exclusive for Binny's, USA - 56,1% - 85p
BenRiach 1984 - 22 years - Cask 4049 - Port Hogshead - Richly Peated - 54,2% - 90p
BenRiach 1984 - 24 years - Cask 4047 - Port finish - 51,8%  - 89p
BenRiach 1986 - 19 years - Cask 9632 - Butt - Peated - 55% - 55p
BenRiach 1986 - 19 years - Cask 285 - Barrel - Peated - 58,6% - 88p
Flight 6:
BenRiach 1977 - 31 years - Cask 3798 - New Wood Oak Hogshead - 43,2% - 90p


BenRiach 1977 - 31 years - Cask 1029 - Moscatel Wine Barrel - 54,9% - 90p
BenRiach 1977 - 32 years - Cask 2594 - Port Pipe - Exclusive for Taiwan - 45,1% - 89p
BenRiach 1977 - 33 years - Cask 1033 - PX Sherry Hogshead - 52,2% - 92p
BenRiach 1978 - 32 years - Cask 4387 - Virgin Oak Hogshead - 50,9% - 91p 
BenRiach 1978 - 30 years - Cask 7772 - Hogshead - 49,2% - 90p
BenRiach 1978 - 26 years - Cask 1589 - Hogshead - 54,3% - 91p
BenRiach 1982 - 25 years - Cask 24011 - Classic Speyside - Exclusive for Taiwan - 55,8% - 90p
BenRiach 1984 - 24 years - Cask 1048 - Pedro Ximenez Barrel - 49,2% - 88p
BenRiach 1984 - 25 years - Cask 493 - Hogshead - 54,1% - 89p
Flight 7:
BenRiach 1970 - 37 years - Cask 1893 - Sherry Hogshead - Sun Favourite, Taiwan - 48% - 92p


BenRiach 1970 - 39 years - Cask 2855 - Sherry Hogshead - Sun Favourite, Taiwan - 44,3% - 91p
BenRiach 1971 - 40 years - Cask 1947 - Hogshead - 49,8% - 92p
BenRiach 1971 - 40 years - Cask 330 - Hogshead - Exclusive for Shinanoya/BBI Japan - 45,1% - 90p
BenRiach 1972 - 39 years - Cask 802 - Hogshead - 40,1% - 91p
BenRiach 1972 - 33 years - Cask 4043 - Hogshead - 49% - 91p
BenRiach 1972 - 34 years - Cask 3580 - Whisk-e, Japan - 49,7% - 91p
BenRiach 1975 - 30 years - Cask 7007 - Gomez Sherry Butt - 55% - 93p
BenRiach 1975 - 36 years - Cask 7228 - Hogshead - Exclusive for Tokyo Bar Show, Japan - 55,5% - 91p
BenRiach 1975 - 34 years - Cask 3061 - Hogshead - The Whisky Agency, Germany - 50,6% - 90p
Flight 8:
BenRiach 1988 - 20 years - Cask 4019 - Virgin Wood Hogshead - Premium Spirits Belgium - 53,0% - 88p


BenRiach 1988 - 20 years - Cask 4424 - Gaja Barolo Hogshead - 54,3% - 86p
BenRiach 1988 - 20 years - Cask 12116 - Bourbon - Hand Filled in South Africa - 54,5% - 87p
BenRiach 1988 - 19 years - Cask 4020 - Virgin American Oak Barrel- 53,6% - 90p
BenRiach 1988 - 16 years - Cask 802 - Butt - 54,7% - 87p
BenRiach 1986 - 18 years - Cask 316 - Barrel - Van Wees, Netherlands - 46% - 86p
BenRiach 1998 - 13 years - Cask 3662 - Petite Arvine Wine Cask - Exclusive for Switzerland - 50,0% - 88p
BenRiach 1998 - 12 years - Cask 47969 - 1st Fill Bourbon Barrel - 25th Scottish Weekend - 46% - 87p
BenRiach 1999 - 10 years - Cask 802 - Bourbon Barrel - Exclusive for Denmark - 57,4% - 87p
BenRiach 1999 - 11 years - Cask 800 - Barrel - Exclusive for Vinding Whiskylaug, Denmark - 48,0% - 86p
Flight 9:
BenRiach 1991 - 15 years - Cask 6888 - Dark Rum Barrel - Sun Favourite, Taiwan - 54,53% - 50p


BenRiach 1991 - 17 years - Cask 4490 - Gaja Barolo finish - Exclusive for USA - 57,5% - 75p
BenRiach 1991 - 18 years - Cask 2052 - Tokaji Hogshead - Exclusive for Hungary - 46% - 82p
BenRiach 1992 - 19 years - Cask 972 - Tawny Port Hogshead - 55,6% - 86p
BenRiach 1992 - 19 years - Cask 5698 - Bourbon Barrel - Exclusive for Taiwan - 52,4% - 84p
BenRiach 1996 - 14 years - Cask 5608 - Pedro Ximenez Hogshead - Exclusive for The King's Royal Hussars, UK - 53,5% - 88p
BenRiach 1996 - 15 years - Cask 2788 - Virgin Oak Hogshead - Exclusive for Best Taste, Switzerland - 55,6% - 87p
BenRiach 1997 - 13 years - Cask 3279 - Virgin Oak - Exclusive for Premium Spirits, Belgium - 56,3% - 88p
BenRiach 1997 - 11 years - Cask 83038 - Bourbon Barrel - Premium Spirits, Belgium - 46,0% - 78p
BenRiach 1998 - 9 years - Cask 78622 - Triple distilled/Oloroso finish - Japan - 58% - 83p
Flight 10:
BenRiach 1984 - 20 years - Cask 627 - Hogshead - 55% - 87p


BenRiach 1984 - 21 years - Cask 1438 - Oloroso Sherry Butt - Peated - 55% - 89p
BenRiach 1984 - 23 years - Cask 4046 - Peated - Tawny Port Finish - 52,4% - 85p
BenRiach 1984 - 20 years - Cask 594 - Hogshead - For Potstill, Austria - 60% - 84p
BenRiach 1994 - 11 years - Cask 828 - Hogshead - Van Wees, Netherlands - 46% - 78p
BenRiach 1994 - 12 years - Cask 20 - Peated - Jamaican Dark Rum Barrel - Kings Court, Netherlands - 57% - 87p
BenRiach 1994 - 12 years - Cask 807 - Oloroso Sherry Butt - MacY, Denmark - 56,0% - 86p
BenRiach 1994 - 12 years - Cask 313 - Peated - The Party Source, USA - 56% - 84p
BenRiach 1995 - 15 years - Cask 7165 - Peated, Pedro Ximenez Puncheon - Exclusive for Preiss Imports, USA - 52,3% - 85p
BenRiach 2005 - 3 years - Cask 803 - Heavily Peated/Bourbon Barrel- Billys first malt - Japan - 58,5% - 82p