It's time to summarise the whiskyyear 2009. For me personally it has benn a lot og highlights during 2009. I have started to work fulltime with my hobby as I have started to work for the whiskyimporter Symposion in Sweden. It has been a a very fun and exciting year with lots of new things to learn. 2010 will hopefully be an even better year for people interested in whisky as we have lots of plans for the future. In this "essay" I will try to highlight some events from 2009 and some personal favourites that I have tasted during the year. I have tasted quite a lot of new whiskies during the year, 847 to be precise, so there are some to choose from.
Topevents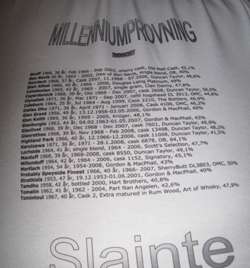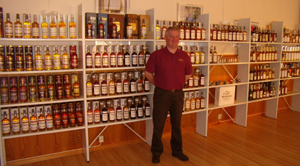 I must, of course, start to mention the 4 big tastings I have organised in Påarp during the year.
We started in February with the Millenniumtasting. 25 whiskies with a combined age of 1000 years (well actually 1010 as one bottle was 10 years older than the shop's website said). It was a powerful experience to try all old ones, the youngest was 35 years old and the oldest was 54.
In April we had a BenRiach tasting with 21 different OB single casks. Distillery Manager Alan McConnochiehad come over to Sweden to participate. My private BenRiach collection was on display in the venue. It was a delight to see the 186 bottles on display. Alan was very satisfied with the day and we hade some really good whiskies and one bad one. For me the winner was the 1980, cask 2535, new wood but there were others that score 90 points or more.

In the autumn we had a 70's Ardbeg tasting in October and a Springbank tasting in November. 15 different Ardbeg from the 70's were a real treat. The only one that didn't keep up with the others was the 1978/1998 OB, which I only scored at 78 points. Many 90+ and my winner was the 1975, 25 year old, John Millroy, 58% at 94 points.

Springbank 21 is a classic whisky and to honour it we did 21 Springbanks in November. Unfortunately noone from the distillery could come, but we managed anyway. The middleflight with 3 different 21-year olds, 3 25-year olds and the 32-year old was a tremendously good flight. The 21-yera olds didn't stand a chance against their older brothers and the 32-year old was the brightest star of them all. In total my favourite was the old 12-year old 100 proof tall bottle. A whisky that is out of this world, but the 32-year old is right behind it.
The Whisky Fair in Limburg is always one of the highlights of the year. I was there for the 4th time and this time my good friend Hasse Peters (Laholm) went with me. We had two insanely fun days at the fair with loads of superb whisky. To pick a few is hard as we tried so many that was so good, but this early 70's Ardbeg from Douglas Laing Platinum were something else and the Ardbeg 1965, 24 year old, Cadenhead was fantastic too. The best memory though, has to be our tasting at the Malt-Mara stand. After about an hour we fetched 2 chairs and sat down and continued to try what they had until we had tried almost all they had!I still have wet dreams about that Bowmore Bicentenary. That's Bowmore at it's best!

Onboard the Viking Line fair on Cinderella in January i was privileged to host a very exclusive tasting. I had goosebumps on my arms when I pulled the cork from a bottle of Usher's Glenlivet bottled before 1907. That's liquid history that! it was surprisingly good and I scored it at 83 points. The other whiskies at the tasting didn't make the tasting any less good; St Magdalene 1964, 18 yo, CC, Glenlivet 1948, 50 yo, G&M, Mortlach 1936, 50 yo, G&M, Glen Grant 1965, 34 yo, Signatory and Bowmore 1970, 35 yo, Signatory. Mortlach 1936, 50 yo is one of the best whiskies I have ever had! A fantastic fruitbomb and I think I was a bit cheap when I scored it at 94 points.




In April me and Thomas Kuttanen went to Elgin to visit Gordon & MacPhail. It became the highlight of the year for me. When we arrived we were shown to a simple conferenceroom, but what was waiting for us was not simple at all. There was 50 bottles waiting for us! Gordon & MacPhail really showed me their class and their incredible width of their portfolio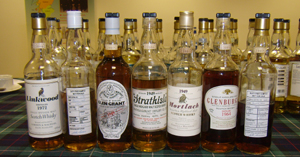 with these 50 bottles (which I had pre-chosen). The Connoisseurs Choice serie showed the widht with everything from 10 year old to 30 year old whisky. The  Rare Old serie had som bottlings from closed distilleries and G&M's distillery labels of Strahtisla, Linkwood, Mortlach, Glenlivet and Glen Grant showed which treasures there are in G&M's warehouse. Not less than 4 different 1949 was on the table and beside them a lot of others from 1950's and 1960's. The nerd in me got a kick in the butt when I with contempt watched the ABV of the bottles. "Mainly 43%, can't be that good", was my thought. Oh boy I was so wrong! There were som outstanding whiskies at 43% and water wasn't needed. It was just to loose myself in the aromas and taste that only old whisky has. A truly magical day!
My visit in Elgin also got a good continue. I got to spend one day as Honorary Stillman at Benromach. It was only me and the guy who works there that went around and made sure everything was working as it should. A lovely opportunity to ask questions and get a chance to be part of the process of making whisky. I also got time to take a tour at the countryside. I went on atour at Glen Moray and I actually also got in with my car at the new Roseisle. The gates were not up yet but I was afraid I was trespassing so I left before I saw anyone out. It's really an impressive site.
I also got time for an afternoon visit to BenRiach. The production hadn't started after Easterholiday, but that didn't matter much to me. That meant more time in warehouse 13 with Stewart Buchanan! He opened a lot of casks for me to taste. I couldn't get him to open any of the 2 remaining 1966 casks but the 1970 we tasted was wonderful. In fact, it was so good that I later bought 3 bottles of it despite the price of 2800 SEK a piece.

Disappointments
The biggest disappointment for me this year is the prices going up and that some distilleries have gone mad with their 40-year old whiskies for 35.000 SEK! Unfortunately we see a raise in prices also from non-hyped distilleries. Some of them even try to get the same prices as the hyped distilleries get. That makes it hard for us ordinary customers to buy single casks whiskies or distillery bottlings of older whiskies. There are too many examples to list them all, but I can give one example. Diageo released the first 6 of a serie of 27 different single casks from all their distilleries. 1 cask per distillery that is. An 8-year old Oban was released with the price tag 300 GBP! Do I need to say more?
Whiskyfavourites
Where do I begin? 847 new whiskies tasted means that I have tasted some fantastic ones and some mediocre ones. 244 of them have gotten 90 points or more, so there has been quite a lot of good ones. Maybe 32% of the whiskies getting 90+ isn't a reflection of what is out there to buy, it's more that I have the opportunity to be picky with what I taste, so I try to pick things that I think will be very good. When I look at the top of the list I'm very happy to see that it's note dominated by one distillery. There are several distilleries that are up there in the top. At 93 points or more I find:
Ardbeg, BenRiach, Bowmore, Brora, Bunnahabhain, Glenburgie, Glenfarclas, Glengoyne, Highland Park, Karuizawa, Miltonduff, Mortlach, Port Ellen, Springbank, Strathisla, Tamdhu and Yamazaki. 17 different distilleries. I split them up in some different lists below.
Surprise of the Year
Glenburgie 1963, Gordon & MacPhail, 43%
How many people have Glenburgie on their list of top distilleries? Both the 1963 and the 1964 are two very good whiskies, but the 63 is a bit better I think. I also got to try a very nice 15-year old that was very fresh and summery. unfortunately it was never released.
Another surprise is Amrut Fusion. A young Indian maltwhisky that is really good. Fun!
Sherrybombs of the Year
It's impossible to just name one. I do like massive sherryinfluence and during the year I got to try a lot of them.
Blackest of them all isr:
Linkwood 1959, 49 yo, cask 1178, G&M Private Collection, 45%
Bottled 1 month before it turned 50 years old! It's so dark that it's impossible to see through the bottle. And it's very good too! 91 points from me.
Strathisla has loads of sherried old whisky, or I should say G&M has loads of old sherried Strathisla. 1964 is my number one this year, but the 1969 single cask we bottled for Sweden was also very good (that's the reason why I and Thomas chose that cask).
Springbank 1965, 31 yo, Cadenhead, 50,5% is a big and bold thing, both in taste and in price. First time I tasted it I didn't write any comments, just 94 points. Then I tasted it again and changed the score to 95. Springbank 12, 100 proof, tall bottle is just behind, but it's a bit cheaper (if you find any of them for sale that is).
Miltonduff 1969, G&M, Bunnhabhain Auld Acquaintance, Glengoyne 1985, cask 629, Glenfarclas Family cask 1965, cask 3861, Tamdhu 1989, DLP, BenRiach 1970, cask 1035 and Karuizawa 1967, cask 6426 are other exampled of really good sherried whisky.
Fruitbomb of the Year
Mortlach 1936, 50 yo, Gordon & MacPhail, 40%
An incredibly fresh 50-year old! Name any fruit and it's in this whisky. An extraordinary experiance!
Smokebomb of the Year
this year I opened a Brora 1972, 22 yo, Rare Malts, 58,7%. I had sky-high expectations on it and they came true. I gave it blind to some of my whiskynerd friends and they agreed with me without knowing what it was they were drinking. 95 points from me. Too bad that such a bottle costs around 10.000 SEK today, if you find one. Another Brora reached 93 points this year and it was the legendary "Brorageddon", 1972, 30 yo, cask 983, sherry, 201 bottles, Old Malt Cask, 50,8%

Ardbeg will always be on a peaty list so also on mine.
Ardbeg 1974, 27 yor, 224 flaskor, DLP, 52,2% = 94p
Ardbeg 1975, 25 yo, sherry, John Milroy, 58% = 94p
Ardbeg 1990/2005, casksample, 58,5% = 93p
Ardbeg 164, 24 yo, Cadenhead, 54,4% = 93p
Ardbeg 1973, 29 yo, 137 bottles, DLP, 51,4% = 93p

Port Ellen are usually good, but not always top notch, but during 2009 there was at least 3:
Port Ellen 1979, 30 yo, 9th Release, OB, 57,7%
Port Ellen, Pe1, Elements of Islay, 58,7%
Port Ellen 1982, 25 yo, Douglas of Drumlarig for Kingfisher, Taiwan, 58,2%
Japanese of the Year
This years winner in my book is Yamazaki. I have taste several very good Yamazaki so now Yoichi has a challneger for 2010. The two best ones were:
Yamazaki 1979/2004, Japanese Oak, OB, 54% - 94p
Yamazaki 1984/2004, OB, 56% - 94p
There came an old Karuizawa in 2009. Distilled as early as 1967 and cask number 6426. I gave it 93 points. Yoichi also had two at 92 points this year, they were:
Yoichi 116.13, SMWS, 51,7%, "Timber wood bonfires"
Yoichi 1991, 17 yo, Cask 129445, OB, 63%
I also have to mention a Japanese Vatted Malt, Taketsuru 35 YO. A wonderful creation at 43% and 92 points. Too bad it's so expensive.
Blended of the Year
Duncan Taylor is the winner with it's Black Bull 30 yo. 50% maltwhisky, 50% grainwhisky, blended at birth, 30 years in sherrycasks and bottled at 50%. Very hard to beat.
But it got a fight from Duncan Taylor's Rarest of the Rare 38 yo.
Grain of the Year
As Symposion has started to work with Duncan Taylor I have been fortunate to taste a lot of old grainwhiskies this year. They got competition from John Glaser though. He mixed 2 grainwhiskies from Invergordon and Cameronbridge and the result became Norse Casks Inver Bridge. I gave it 92 points but it wasn't the only grain with 92 points:
Port Dundas 1973, 34 yo, cask 128323, Duncan Taylor
Cameronbridge 1979, 30 yo, cask 3587, Duncan Taylor
Secret of the Year
I have during 2009 had the chance to tate a fantastic whisky which wasn't just a whisky but also an experience out of this world. Everything is still a secret as it hasn't been released to the market yet. It will come out in 2010 and I ams sure you will all hear about it when it's released. So you have to wait a bit longer for that one

Now it can be revealed! The whiksky i was talking about is the world's oldest bottled whisky, Mortlach 1938, 70 years old!
An amazing experience that something that old kan be so lively and wonderful. Too bad I can't afford a bottle at 130.000 SEK.
If anyone has had the patience to read all this I'm both surprised and happy. I realise that if I hade a bit more time an knowledge I could add some pictures to make it more fun, but it will have to be another time.

Magnus Fagerström, January2010