It was time to come up with an idea for the next big tasting. I had done the Bottle of the Titans and was planning for next year. In the past I had done some tastings wit all bottles from the same distillery but the Battle of the Titans was fun so I wanted to do another battle. Highland Park and Springbank are two distilleries I like and I thought that a fight between could be a good one. Both have a little peatiness in them and both are traditional distilleries and I had already done big tastings with both of them. I decided for 16 bottles in total and a budget of 10.000 SEK in average per bottle, so a total of 160.000 SEK (16.000 Euro) and half to each distillery. Invitations were sent out and it got fully booked very quickly. The hunt for bottles could begin. 
To find Highland Park bottles that fit inte to budget as well as to my demands of it to be either something I thought would be very good, or knew to be very good or something really interesting, wasn't especially hard. There are a lot of Highland Park bottles in all different kind of price range, but for Springbank it was much harder. There are of course a lot of interesting Springbanks to be found but it seems to be a gap in the prices of these bottles. To find bottles for 600-800 Euro each is no problem but then the leap seems to be to like 2000 euro for the next pricestep, so to find bottles with an average price of 1000 euro was a challenge, but eventually I had found all the bottles I needed for the tasting.
We were 38 people in total at the tasting and each got 1,5 cl of each whisky. This time we had international guests from UK and Denmark and two sample packages were sent to USA and Germany. We had the whiskies in two flights with eight whiskies in each flight and with a food break in between the flights. As it was a battle I decided that we were going to taste it semi-blind. People knew most of the bottles in the tasting but they did'nt know in which order i had poured them.
I tried to pair them so we would have about the same age and same abv together and maybe also the same kind of cask. I wasn't going to pour every second one Springbank so I mixed it up a bit and it turned out great. After each flight we voted for the best whisky in that flight. Everyone got two votes for the best two and then we counted it all up. After the voting I revealed the result by telling them which whisky was in whisch glass.
The first flight had a clear winner with a total of 26 votes and that was the Springbank 21 YO, tall bottle, bottled late 90's. Highland Park got the silver and bronze in this flight with the 30 YO from Silver Seal in second place and The Dragon 1961 on third place. Unfortunately there was something wrong with the Springbank 32 YO. It wasn't as fruity and fresh as it should be and I actually went home to grab my open bottle I had at home to try them head to head and it was a huge difference between them. The whisky wasn't bad, it actually got 4 votes as one of the best in this flight, but it wasn't as good as it should be.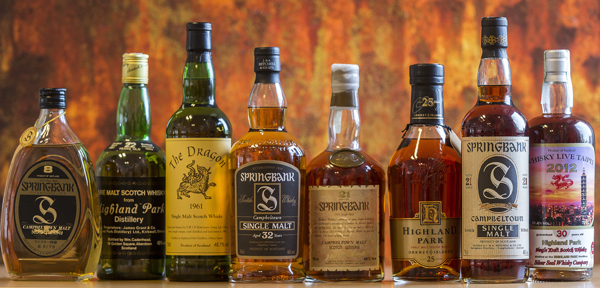 After an hour foodbreak it was time for flight number 2. I had saved the heavy sherry ones for this flight and I was looking forward to try this line-up. Some of them I had tasted in the past and loved them and some of them were new and I was really curious on them. Once again it was semi-blind and once again there was one bottle that didn't really deliver. I haven't tried that one before so I can say for sure, but I think this one should be better than this bottle was. I am talking about the Springbank 1964, 15 YO, Samaroli. It wasn't bad but it wasn't magnificent either. This flight was a step-up from the previous one which is very good as the first flight was impressive. We had a clear winner in this flight too, but the runner-up surprised me a little. Springbank 1966, 34 YO for Juuls won with 23 votes and in second place it was the Highland Park 1966, bottled 1998 from Gordon & MacPhail. At only 40% this whisky was so full of flavours that it won over it's more alcoholstrong opponents. Highland park took third place here too with the 1977, Scottish Field Merchant's Cask.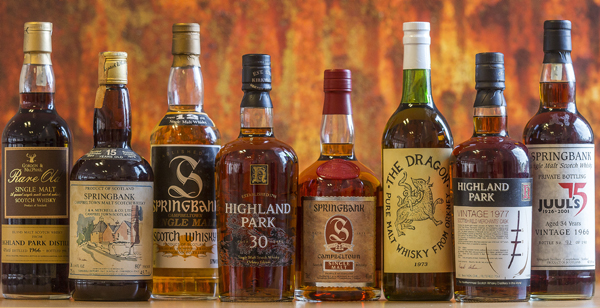 We had a wonderful day together and with some absolutely amazing whiskies. As an extra treat I opened a very special Highland Park at the end of the tasting for those who wanted to try something that you don't see every day. 
Highland Park, St Magnus label, bottled late 60's.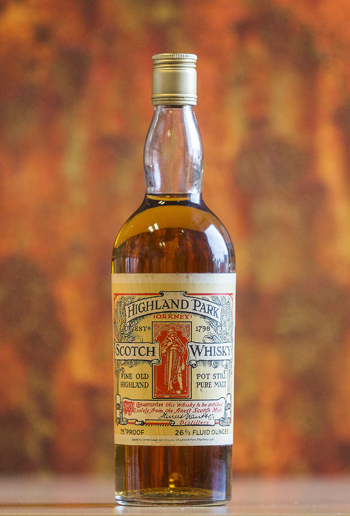 Magnus Fagerström, October 2018